June 17, 2020 UPDATE: Members have access to their union halls—but must follow guidelines meant to protect both members and ILWU employees from COVID-19 transmission.
Remember:
• Call before you enter the building.
• Don't forget to bring your photo I.D. and a mask.
• Everyone is required to fill out a quick three-question survey on symptoms, contacts, and travel.
• If you are sick, you will be asked to re-schedule.
• Everyone must sanitize their hands and wear a face mask upon entry, and maintain social distancing while in the union hall.
• You will be asked to sign in to identify who you are seeing and the purpose of your meeting.
• The ILWU will hold on to your I.D. while you are in the building and return it when you exit in order to keep track of visitors.
• Posters with the information above are posted outside the union hall. If you need more information, call your Division office or your Business Agent.
From The Dispatcher: "ILWU honors International Vice President (Hawaii) Wesley Furtado" including remembrances and photos from Furtado's long history of service to the ILWU.
---
Letter from President Adams to Minnesota Governor Walz on the murder of George Floyd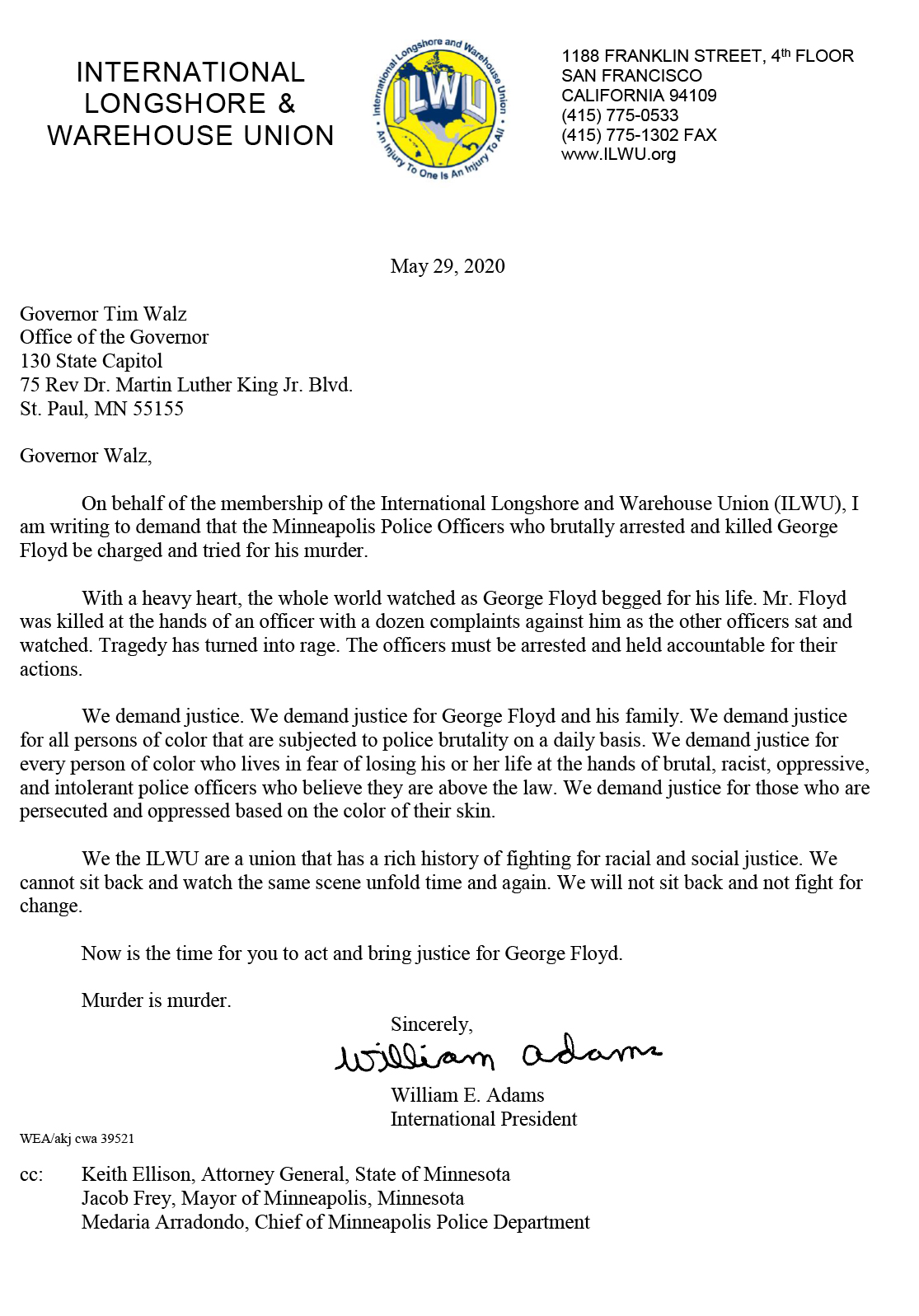 ---
ILWU International Vice President (Hawaii) Wesley Furtado passed away on March 15, 2020.
---
International Transport Federation (ITF) letter on the passing of ILWU Vice President Wesley Furtado
---
International Longshoremen's Association (ILA) letter of condolence for Vice President Wes Furtado
---
Message from the International Organization of Masters, Mates & Pilots (MM&P)
---
International Office – Hawaii
451 Atkinson Drive
Honolulu, Hawaii 96814
PHONE: (808) 949-4161
FAX (808) 941-5867
International Vice-President (Hawaii)


International Field Representative
Dustin Dawson
Brandon Wolfe
Organizers
Wilfred Chang
Merlita Crespin