HONOLULU—The 20th Annual Oahu Division Fishing Tournament was held August 23-24, 2014. The 36 anglers caught close to 35 pounds of fish. Participants included eleven children in the Keiki Division—nearly twice as many as last year.
The tournament is about more than just bringing in and seeing the big fish. Many of the participants are there to celebrate family and see friends. Oahu Division Business Agent/State Sports Coordinator Brian Tanaka said, "This tournament is about the children and the family."
"We get to celebrate the good times, share stories and enjoy the whole environment," he added, as the participants enjoyed the saimin, kalbi, and hamburger and buns that were served as the fish were being weighed-in.
Johnson Control, took top honors this year with a total weight of 14.25 pounds. Team members, Wilfred Tsuda, Dennis Yoshimura, Rolly Prado, Nora Onaga, and Davin Woodruff's catch included 2 papio, 1 barracuda and numerous other fish such as hinalea, taape, moana, and humuhumu to name a few.
"Sato Ichi" of Unit 4412 - Servco Pacific was runner-up with an uhu and several papio for a total weight of 8 pounds.
papio for a total weight of 8 pounds. Shore Action Pole Casters of Unit 4412 - Servco Pacific was third with a 2.5 pound palani and several papio for a total weight of 6.63 pounds.
Daven Tong of Team Rachet of Unit 4412 - Servco Pacific caught the biggest fish of the tournament, an oio weighing 3.56 pounds.
The Keiki Division included: Abigail Magana, Amber Magana, Alika Onaga, Katie Tong, Noah Tong, Nick Uyeshiro, Braeden Woodruff, Kayla Young, Marissa Young, Isaiah Padello, and Kawaika Padello.
he kids participating is that it is good clean fun and it is an outdoor activity that families can all afford," Tanaka said. He would also like to thank Unit 4412 - Servco Pacific Vice Chairperson Robert Uyeshiro and his wife, Naomi for their generous donations of door prizes and for preparing the food served during the awards presentation.
Whatever their reasons for participating in the tournament, those in attendance have already started planning for next year's tournament.
There are many ways to actively participate in your union, and the ILWU sports program is just one of them! If you like softball, bowling, golf, or basketball, contact your Business Agent or Division office to find out more about ILWU sports.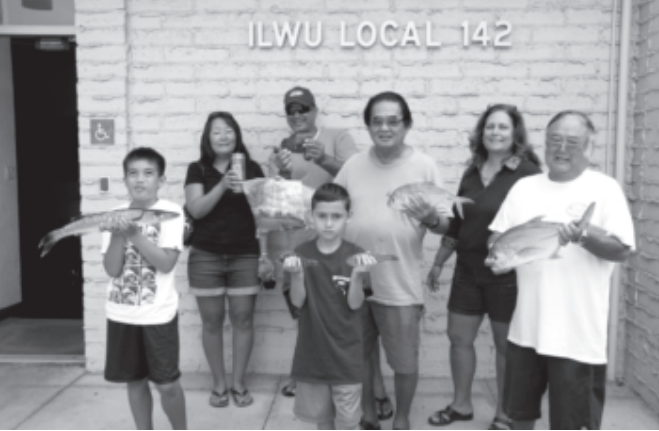 Unit 4420 - Johnson Control team members are (l-r): Braeden Woodruff, Jolene Higashionna, Davin Woodruff, Alika Onaga, Wilfred Tsuda, Nora Onaga, and Dennis Yoshimura.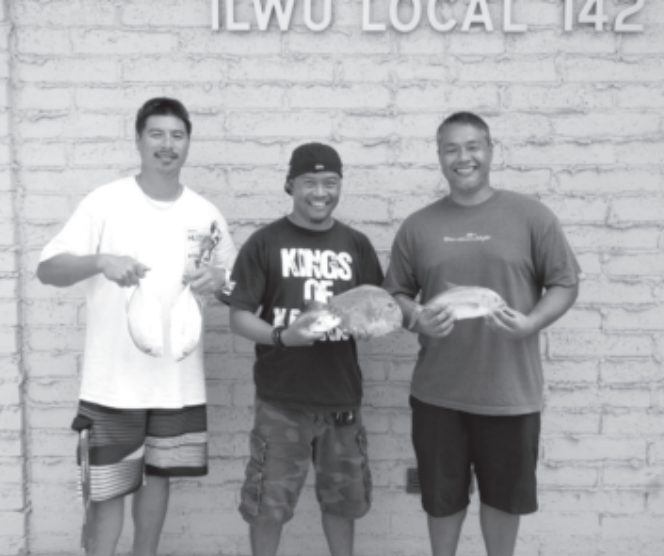 Third Place Team Shore Action Pole Casters members from Unit 4412 - Servco Pacific (l-r): Kainoa Butler, Shaughnessy Birgado, and Jerry Lactaoen.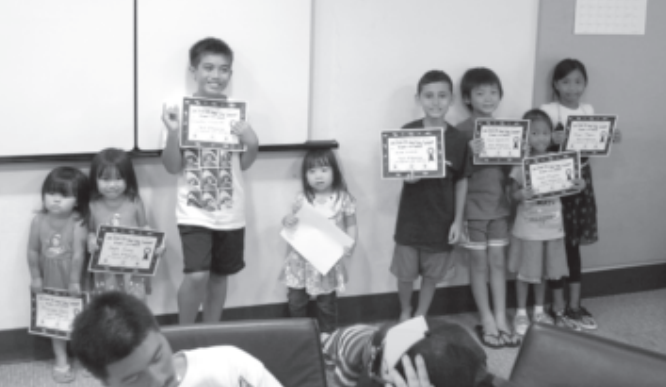 Keiki Division Winners (l-r): Marissa Young, Kayla Young, Braeden Woodruff, Katie Tong, Alika Onaga, Nick Uyeshiro, Amber Magana, and Abigail Magana (Not pictured: Noah Tong, Isaiah Padello, and Kawaika Padello).
TRANSITIONS
NEW PENSIONERS:
Unit 1402 Mauna Loa Macadamia Nut: Alvin Akamine,Lourdes Andaya, Augustina Aranita, Anita Barbieto, Ludevita Corpuz, Alfevictoria Corrales,Lloyd Kiyojima, Estelita Vidad

Unit 1503 Mauna Kea Beach Hotel: Rosita Menor
Unit 1516 Mauna Lani Bay Hotel: Grace Inamine,Eddie Sakamoto
Unit 2101 HC&S Company (Production): Rudy Agdinaoay, Patricia Bautista, Manuel Corpuz, Wilmer Felix, Feliciano Garcia, Josefina Garcia, Lawrence Hokano-Kaniania, Uale Leungwo, Nenita Llusala, Rodney Medeiros, Eulogio Mendoza, Frank Nakoa, Lawrence Nashiwa, Teresita Natividad, Maximo Parilla, Michael Prais, Pedro Reasonda, Alma Roldan, Domingo Sagario, Orfelia Sagario, Van Smith, Melchora Teneza, Reynaldo Valdez, Eddie Yagin

Unit 2401 Pulama Lanai (Grounds): Laureano Echalar 
Unit 2406 Hawaiian Cement – Maui Concrete: Nelson De-Coite Unit 2408 Foodland – Kihei #23: Marilyn Aiwohi, Roger Keech

Unit 2408 Times Supermarket: Judy Haruguchi 
Unit 2506 Kaanapali Beach Hotel: Duane Murakami 
Unit 2516 Hyatt Maui (Regency): Regina Duarte, Carol Mau, Christina Ramos
Unit 3402 Foodland – Princeville #30: George Taylor Unit 3410 Wilcox Memorial Hospital: Genta Hernandez
Unit 3514 Kauai Lagoons Golf Club: Kathleen Roark Unit 3515 St. Regis Princeville: Tomomi Nekomoto Unit 4207 Matson Navigation (Clerical): Linda Takase Unit 4305 Dole – Wahiawa Plantation: Elviro Alonzo, Lito Funtanilla, Marciano Juan, Virginia Juan, Edwin Labasan, Aurora Ladiero, Ceferino Ladiero Sr., Leonora Malinab, Rosalina Pastor, Leonila Piano, Moises Real, Macario Rinon, Jonathan Sakamoto, Loreto Yanuaria

Unit 4402 Love's Bakery, Inc.: Edwin Anderson Unit 4404 Pepsi Beverages Company: Paterno Acacio Unit 4405 Foodland – Oahu: Lorraine Yee Unit 4405 Sack N Save – Oahu: Joyce Nakaishi Unit 4410 Honolulu Ford: Martha Hopper, Wayne Stierli

Unit 4414 Ball Metal: Ludovico Senador Jr. Unit 4415 Mililani Town Association: Francisco Boniel, Cristeta Sarmiento Unit 4420 Kuakini Medical Center: Cecilia Padua, Frances Sarae Unit 4420 Hawaii Pacific Health Oahu: Ekepati Ioane Unit 4521 Turtle Bay Golf Club (Kuilima Resort): Lawrence Giedt Jr.
DECEASED 
PENSIONERS: Unit 1412 Yamada & Sons, Inc.: Moses Moke
Unit 4201 Matson Terminals (Longshore) Allan Kila ILWU Full Time Officers: Eddie Lapa, Akira "Sonny" Omonaka, Pepito Ragasa
DECEASED MEMBERS: 
Unit 4201 McCabe, Hamilton & Renny: Tyler Williams 
Unit 4405 Hawaii Logistics: Roland Pacleb Unit 4420 Kaiser: Moira Hogan