Oahu Labor Day brings union families together
HONOLULU—Music filled the air on a sunny Monday at the Hawaii Labor Unity Picnic at the Waikiki Shell on Labor Day, September 1, 2014. More than 3,000 union members and their families enjoyed the afternoon filled with games, ono food and numerous prize giveaways of Foodland gift certificates and VISA gift cards.
The delicious food was provided by Sumo Drive Inn & Catering.
Hundreds of children actively played on the bouncers and rock climbing wall in the Keiki Zone while others waited patiently for their lemon, lilikoi and key lime bars, popcorn, slush floats, oranges, and beach balls at the different labor union sponsored tents. Other tents featured a fishing game, face painting, and body tattoos (temporary, of course!).
There were long lines at the ILWU tent where the Oahu Division operated three games. The children eagerly waited to play the games in hopes of winning prizes that included Love's Bakery desserts, such as Little Debbie's Nutty Bars, Little Brownies, Swiss Rolls, Mini Crunch Donuts, and Muffins.
Event goers were encouraged to make donations of canned or dry goods to benefit the AFL-CIO Community Services. The food drive collected close to 800 pounds of food to stock the Labor's Community Services food pantry.
Live music was provided by Rock Steady, Simple Session, Mahi Crabbe, Jimmy Weeks Project and Peni Dean (former lead of Natural Vibes).
Seven Harriet Bouslog Labor Scholarship recipients, Kaai Conradt, Micah-Shayne Garces, Noah Kawano, Noel Kawano, Momi Mariani, Tatiana Omokawa, and Matthew Shinsato, volunteered to oversee the games. Eljean Madio also assisted. The Harriet Bouslog  Labor Scholarship can help ILWU families fund a college education for their children. The Harriet Bouslog Labor Scholarship was established by the late Harriet Bouslog and her husband, Stephen T. Sawyer, to specifically benefit ILWU families and to encourage attendance at the University of Hawaii.
These are some of the labor unions with union sponsored tents: American Federation of Government Employees, Hawaii Building & Construction Trades Council, Hawaii Federal Employees Metal Trades Council, Hawaii Nurses Association, Hawaii Teamsters Local 996, International Alliance of Theatrical Stage Employees Local 665, IBEW Local 1186, IBEW Local 1260, International Federation of Professional & Technical Engineers Local 121, Iron Workers Union Local 625, ILWU Local 142, Laborer's International Union of North America, Operating Engineers Local Union No. 3, OPEIU Local 277, Plumbers & Fitters UA Local Union 675, Sheet Metal Workers Local 293, and United Public Workers Local 646 to name a few.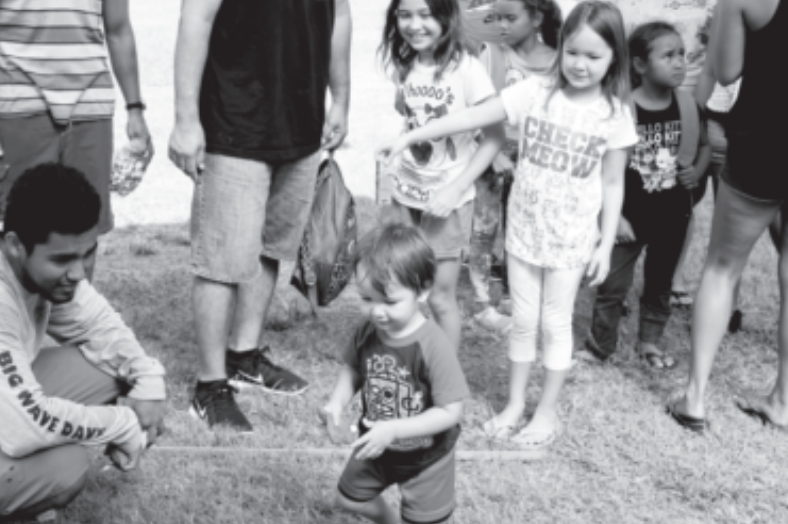 Bouslog scholarship recipient Micah-Shayne Garces watches as child makes an "assist" in the bean bag game run by the ILWU and staffed by Harriet Bouslog Labor Scholarship winners, who are all members of ILWU families.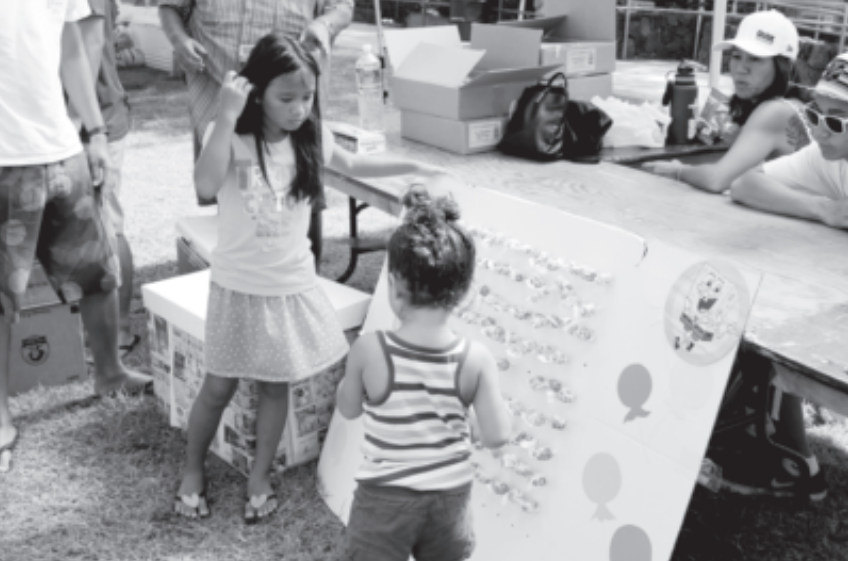 Game "manager" Nadia Fernandez, daughter of Oahu Business Agent Paris Fernandez, oversees the lollipop game at the ILWU booth.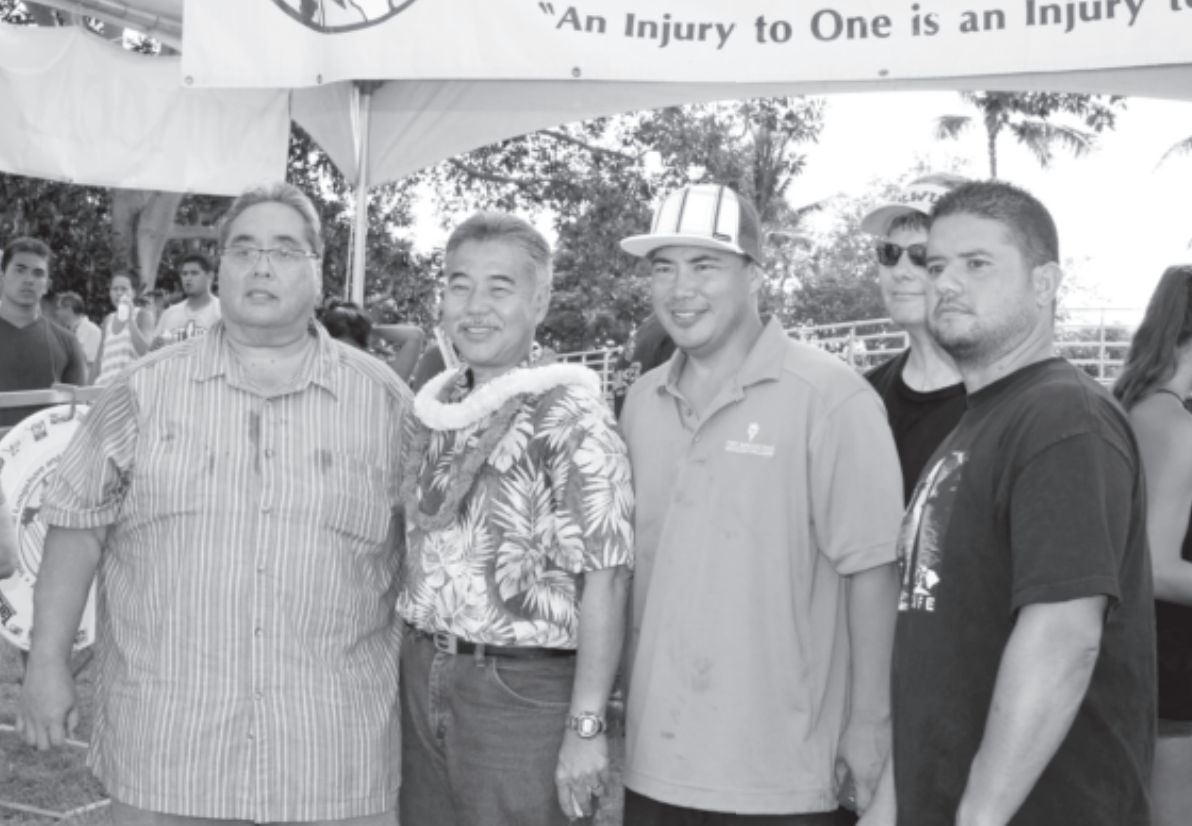 Gubernatorial candidate David Ige (second from left) with Oahu Division Busine Agents Brian Tanaka, Wilfred Chang Jr., Dillon Hullinger and Paris Fernandez. "I'm really glad I had the opportunity to meet David," said Tanaka. "My members to mwant to vote for candidates they can trust and depend on, and I believe that  David is that kind of person. Working people  avidwill be better off if we elect David as governor. If you have a chance to go to one of his stew and rice get-togethers, to oplease go," Tanaka added.

ILWU joins in a community Labor Day celebration
WAILUKU—Various unions worked together at the Maui Community Labor Day Celebration which was held at the Velma McWayne Santos (Wailuku) Community Center on Saturday, August 30, 2014 from 10:00 a.m. to 2:00 p.m.
More than 700 union members and their families enjoyed a fun-filled day with delicious food, games, enjoyable entertainment and an abundance of door prize giveaways.
Volunteers from congressional offices, as well as state and county officials manned the food booths. Represented among them were Senators Mazie Hirono and Brian Schatz, Gubernatorial candidate David Ige, Lieutenant Governor Shan Tsutsui, Mayor Alan Arakawa, Council members: Donald Couch Jr., Mike Victorino, and Michael White and Council candidate Kaala Buenconsejo. The volunteers served chow fun, hot dogs, boiled peanuts, popcorn, li hing mui seeds, cotton candy, shave ice, and Roselani passion fruit sherbet.
Other elected officials in attendance were Senator Gil Keith-Agaran, Speaker of the House Joe Souki, Representatives Kaniela Ing and Justin Woodson, Council Chair Gladys Baisa and council candidate Joe Pontanilla.
Live entertainment was provided by Mondo Kane and his group, and Unified Soul. Councilmember Mike Victorino was the emcee.
Mahalo to the following unions who supported the event: ILWU Local 142, IBEW Local 1186, HSTA, IUPAT Hawaii District Council 50, LIUNA Local 368, HGEA, SHOPO, and Central Maui Pensioners Club.
Below: Division Clerk Joyce Naruse, pensioner Daryl Davis, and AFL-CIO/United Way Labor's Community Services Maui liaison Lena Staton. Both Davis and Staton were employees with Unit 2512 - Renaissance Wailea Beach Hotel, which closed in 2007. Davis and Staton helped to organize workers at luxury hotel Andaz Maui at Wailea, which now sits on the former Renaissance site.