HONOLULU—Dole Food Company workers numbering 213 ILWU members are now covered by a new three-year agreement which goes in to effect on October 1, 2014 and expires on September 30, 2017.
Chief union spokesperson Dillon Hullinger says that the settlement calls for a 5% pay increase, to be paid out in increments of 1.5% effective October 1, 2014, 1.5% effective October 1, 2015 and 2% effective October 1, 2016.
Other improvements include: a decrease in the continuous hours worked before being paid the overtime rate, reinstatement of one fixed holiday and the company exploring the feasibility of participating in the ILWU Local 142's Health and Welfare Trust.
Hullinger explains that these talks are to regain the concessions the members made in order for the company to remain competitive in the local and global market. In 2009, the members accepted a 15% wage decrease and went from nine fixed holidays to five fixed and four personal holidays.
What's the difference between a fixed and personal holiday? 
A fixed holiday is a designated holiday in which the company must pay the holiday rate, which is one and one half (1.5) times the regular hourly rate, if the employee is required to work on the designated holiday. Unless it is economically feasible to operate - must generate enough revenue to offset the cost of paying the holiday rate—most companies give their employees the day off.
By decreasing the number of fixed holidays from nine to five, the company increased the days of operation by four additional days. For example, Memorial Day which is a federal holiday for remembering the men and women who died while serving in the country's armed forces is now a day of operation. Members could request a personal holiday, but since the day would be a day of operation, only a handful of members could be given off because a certain level of workers have to be maintained.
The make-up of Dole units 
Dole Food Company is comprised of two different units based upon the job classifications of the members. They are as follows:
• Unit 4301 Fresh Fruit which includes jobs related to fresh fruit packing and chilled cut operation. 
• Unit 4305 Plantation which includes jobs related to the planting, weeding, irrigating and harvesting operation on the plantation.
The rank and file members of the negotiating committee were Unit 4301 - Fresh Fruit Vice Chairperson Jimmy Barreras and International Executive Board (Pineapple) member Mathew Rodrigues; Unit 4305 - Wahiawa Plantation Chairperson Samuel Ramirez and Unit 4305 - Wahiawa Plantation Treasurer Ruperto Agustin Jr. Oahu Division full time officers assisting Business Agent/Spokesperson Dillon Hullinger were Division Director Michael Yamaguchi and Business Agent Paris Fernandez.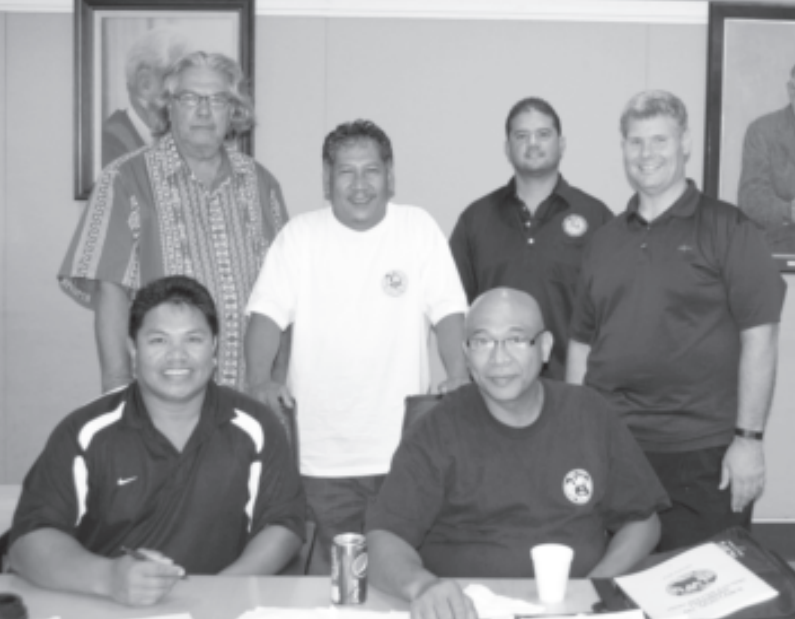 The Dole union negotiating committee, sitting (l-r): Samuel Ramirez (4305 - Wahiawa Plantation) and Jimmy Barreras (4301 - Fresh Fruit). Standing (l-r): Mathew Rodrigues (4301 - Fresh Fruit), Ruperto Agustin Jr. (4305 - Wahiawa Plantation), Oahu Division Business Agents Paris Fernandez and Dillon Hullinger. Not pictured: Division Director Mike Yamaguchi.
Buy union to support your brothers and sisters 
Dole Food Company, Inc. was founded in 1851. Today, it is the world's largest producer and marketer of fresh fruit and fruit products, and continues its pineapple operations in Wahiawa. But Dole faces rising competition in this market.
Non-union Hawaii Pineapple Company sells pineapples grown on the Island of Oahu under the Hawaiian Crown Sweet Gold™ label, which is colored blue. The pineapples are sold at Foodland and Sack N Save stores.
When you or your family are in the market for fresh pineapples, both Rodrigues and Ramirez urge you, "Please ask your union brothers and sisters who work at Foodland and Sack N Save stores to assist you in picking up the Dole Foods brand pineapples and not the pineapples with the "blue label." 
When you patronize companies that negotiate fair contracts with ILWU Local 142, you are putting your money where your values are. You are rewarding companies for providing a higher standard of living, health and retirement benefits, and fair treatment on the job for their workers. Every time you "buy ILWU," you reinforce good corporate behavior and directly support your union brothers and sisters.
Kloeckner Metal ILWU members ratify contract
HONOLULU—Workers at Kloeckner Metals—thirteen ILWU members strong— are now covered by a new three-year contract that went into effect June 1, 2014 and expires May 31, 2017. All production and maintenance employees including warehousemen, galvanizers, welders, dimondek operators, roll-form mill operators, and truck drivers are covered by the agreement. The workers produce a variety of metal products such as metal roofing and culverts. They also operate a galvanizing plant.
galvanizing plant. Kloeckner Metals began its metals distribution business near the Honolulu Airport as Jorgensen Steel and Aluminum in 1960. In 1980, they moved to the present location in Kapolei. The company changed their name to Earle M. Jorgensen Company in 1990.
Ferro Union Hawaii, LLC acquired Earle M. Jorgensen Company in 1996 and merged into Macsteel Service Centers USA in 2004. On July 1, 2012, Macsteel Service Centers USA merged into the present Kloeckner Metals. In spite of the numerous changes in ownerships, ILWU continues to represent the workers and make improvements to their wages and benefits.
Chief union spokesperson Jose Miramontes says the settlement calls for a 8.5% pay boost, to be paid out in increments of 3.5% effective June 1, 2014, 2.5% effective June 1, 2015 and another 2.5% effective June 1, 2016. Other gains included stronger language in several sections in the contract which addresses discrimination and the Family and Medical Leave Act (FMLA), a substantial decrease in the time of service between step increases in the hourly rate for new hires, and improvements to the medical plan. The ratification was held July 16, 2014 and the memorandum of agreement (MOA) was approved overwhelmingly.
Members of the negotiating committee are as follows: Unit Chairperson Neal Miyazaki, Oahu Division Business Agent Dillon Hullinger and Spokesperson/ Division Representative Jose Miramontes.