Adele Ching of the Executive Office on Aging and Sgt. Roderick Green of the Kauai Police Department cautioned pensioners about being wary of those who prey on trusting seniors and warned them to avoid becoming victims of scams and fraud.
Resolutions adopted 
Each pensioner club gave a report on their membership and their activities. Robert Girald, president of the M.A., provided a report to the conference about its activities to maintain properties for use by the Local and to support and revitalize the ILWU's pensioner program. Delegates passed resolutions on a number of issues such as: support for the ILWU political action program and ILWU-endorsed candidates, continued participation in the Hawaii Alliance for Retired Americans, Justice at Pacific Beach Hotel (celebrating the historic victory when a union contract was finally negotiated after a decade of struggle), and continued support for the Affordable Care Act (aka "Obamacare"). One big issue that drew debate was the Hawaii Division ILWU Pensioners' Council resolution to urge the Local to allow both voice and vote to pensioner representatives on the Local Political Action Committee. After some debate, the resolution passed.
Time for fun 
Despite the heavy topics discussed, the pensioners managed to make time for lots of fun. They picnicked at nearby Lydgate Park, played bingo, went shopping, sat around the hotel visiting with friends from other islands, enjoyed the hospitality room (yes, pensioners have hospitality rooms just like active members do at conventions!), and overall had a great time. On the last night of the conference, the pensioners were treated to entertainment by Tamatea Nui O Kauai as well as song and dance by their fellow pensioners. The next day, everyone went to Kilohana Plantation just outside of Lihue to tour the grounds on a real train and to have lunch at Gaylord's, an old plantation manager's house.
New Kona club welcomed Although membership in each of the clubs is declining, this year's conference was happy to welcome a new club from Kona, headed by retired business agent, Roy Jardine, who brought along
Although membership in each of the clubs is declining, this year's conference was happy to welcome a new club from Kona, headed by retired business agent, Roy Jardine, who brought along seven women delegates from his new club. They were enthusiastic, lively, and thoroughly enjoyed their first pensioner conference. The ladies are retired from hotels in Kona and hope to recruit more hotel retirees into their club. We hope this represents the start of new expansion for the ILWU pensioner program.
A sad announcement 
In the midst of the good times, conference participants received sad news that Moses Moke passed away. He will be missed by the Hawaii Division ILWU Pensioner Council, which he served as treasurer for many years, and all who knew him.
New officers installed
The 2012-2014 officers of the ILWU State Pensioners Association helped to ensure that the conference ran smoothly. Particular thanks go to Ernest Domingo (Kauai), president, for presiding over the conference. Other officers were: Richard Baker, Jr. (Hawaii), vice president; Dorothy Sakamoto (Oahu), secretary; and Erlinda Bayaca (Maui), treasurer. 
New officers for the next term are: Richard Baker, Jr. (Hawaii), president; JoAnne Trask (Oahu), vice president; Mona Bio (Maui), secretary; and Ernest Domingo (Kauai), treasurer.
Conference a huge success 
Judging from the smiles and contented faces as the delegates left for the airport, this year's pensioner conference was a huge success. Many thanks to the Kauai pensioners and the Kauai Division FTO's, who worked together and planned for months to make the conference one that all would enjoy. The next conference will be held on the Big Island in 2016. Not to be outdone, Hawaii Division pensioners have already started planning!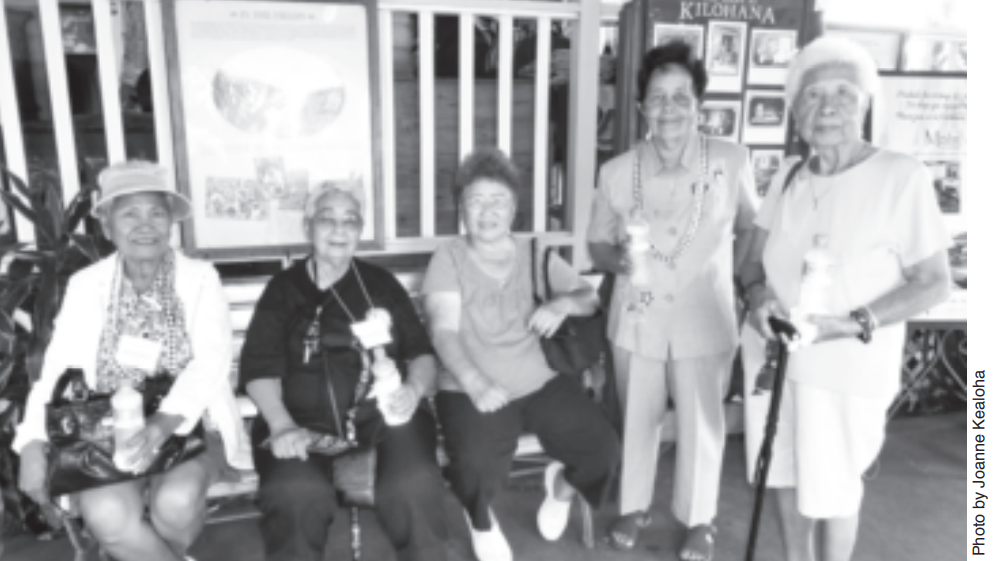 Kauai pensioners take a break after riding the Kilohana Plantation train: (l-r) Merlin Dahilig, Dolly DeCosta, Elsie Takata, Eveline Malina, and Connie Baniaga.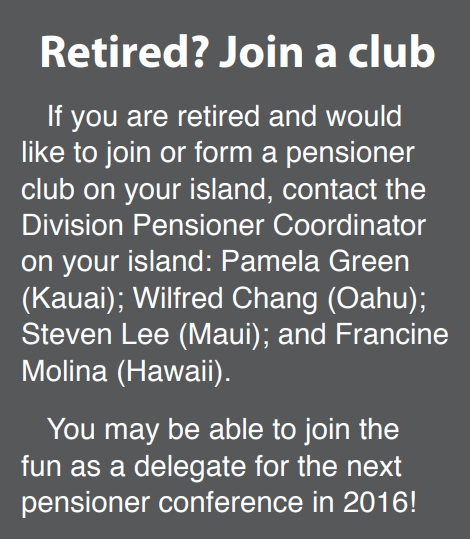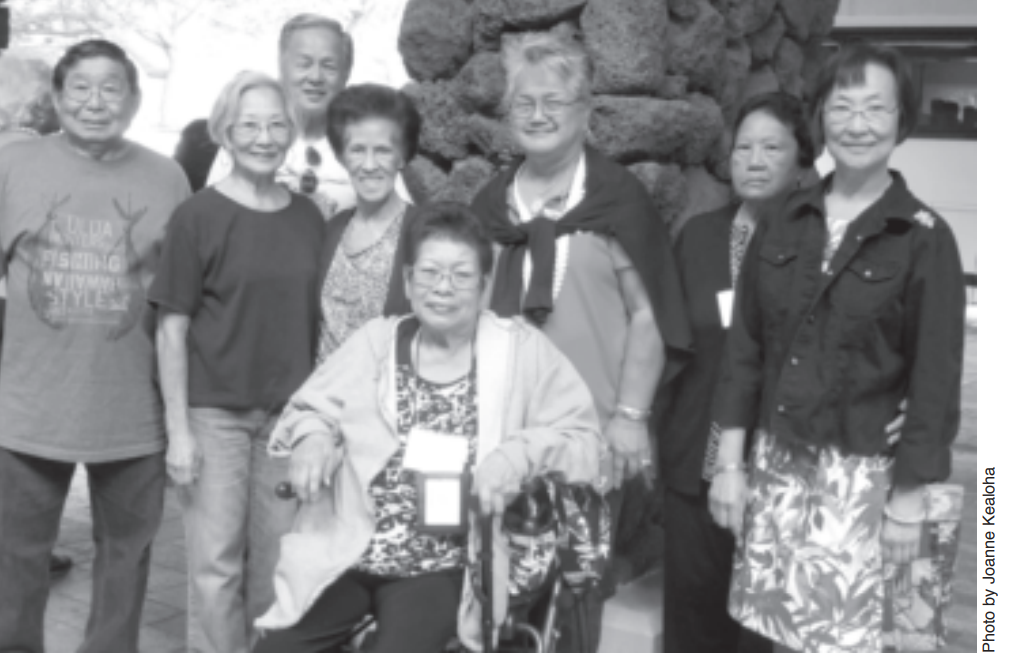 Oahu pensioners pose in the hotel lobby: (l-r) Steven Inouye, June Kurita, Dennis Pang, Esther Scharsch, Juanita Augustiro, Dorothy Sakamoto, Vivian McCoy, and JoAnne Trask.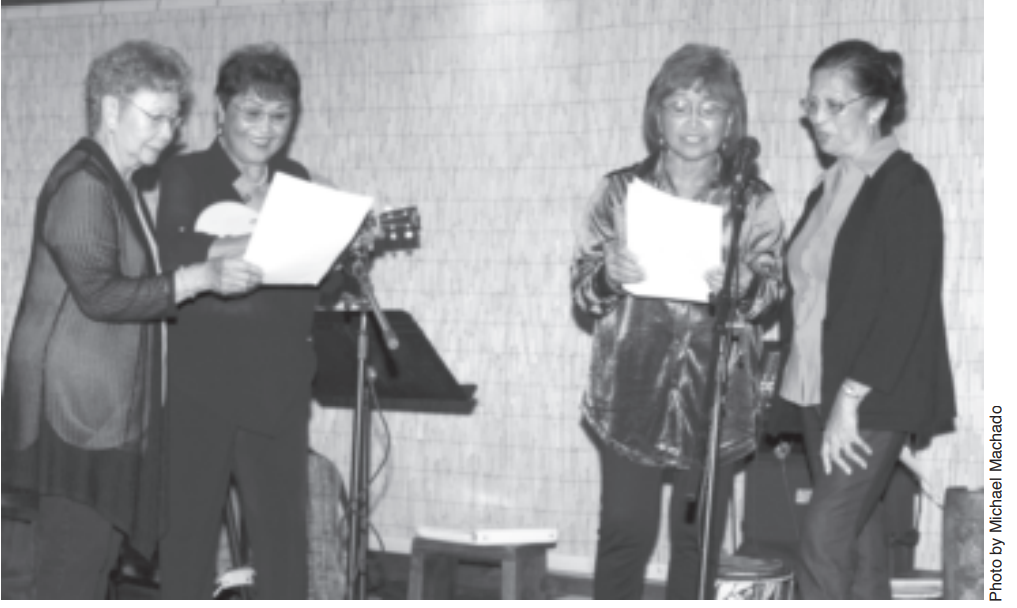 Pat Ebreo, Jane Matsumura, Cathy Salgado, and Violet Carvalho of the Paauilo ILWU Pensioner Club share a Filipino song at the conference banquet.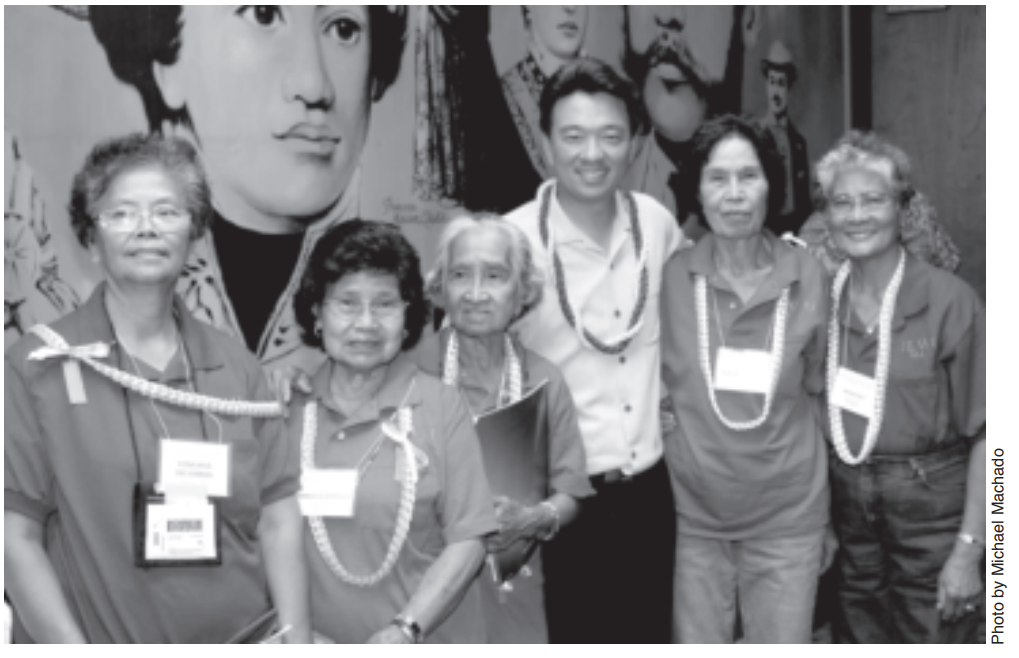 Lt. Gov. Shan Tsutsui poses with Maui pensioners, Conchita DeCambra, Manuela Domingo, Lydia Coloma, Paz Manuel, and Mona Bio.